9 Sep, 2015
Post by Sean Harnedy
Technology Solutions Limited (TSL) RFID Readers – A Technical Look
Technology Solutions UK Ltd (TSL) is an innovative company based in the United Kingdom that manufacturers handheld RFID readers. Founded in 1993, they have grown to become a respected manufacturer of RFID and other multi-technology mobile device peripherals that are used to track products, assets, data, and personnel.
TSL's RFID experience covers the full spectrum of frequencies used in RFID as well as a wide range of encrypted transponder devices. RFID solutions enable you to advance your business to a new level of efficiency by providing greater visibility into your inventory as it moves across the supply chain. With real-time tracking information, you'll always know where your critical business assets are located.
TSL has a wide variety of RFID products including Low Frequency (LF), High Frequency (HF), and Ultra High Frequency (UHF) readers.
Two top-selling TSL RFID UHF handheld readers that utilize Bluetooth connectivity include:
The TSL 1128 Bluetooth UHF RFID Reader is designed to read and write to EPC (Electronic Product Code) Class 1 Gen 2 (ISO18000-6C) UHF tags and labels. It communicates to a variety of host devices (e.g., smart phones, tablets) via Bluetooth. With its Impinj R2000 core and range of interchangeable high performance antennas the 1128 performs like no other reader, giving the user the highest levels of flexibility available in today's market.  The reader can be configured with class leading high performance 2D data scanning to bring unparalleled data collection capabilities to connected devices.
The TSL 1153 is another Bluetooth wearable UHF RFID Reader that is designed to read and write to EPC Class 1 Gen 2 (ISO18000-6C) UHF tags and labels. It can communicate with a variety of host devices such as smart phones and tablets via Bluetooth wireless technology. The RFID reader chipset is optimized for low power consumption while still providing excellent performance in a small and convenient form factor. The 1153 Wearable UHF RFID Reader includes class leading high performance 2D barcode data scanning to bring superior data collection capabilities to connected devices for your RFID applications.
When a Process/Industrial Engineer seeks to find the best handheld UHF RFID reader for a given application there are several very important attributes to be considered. TSL products fit those bills. These qualities include price, Bluetooth capability to BYOD (bring your own device), read range, weight, reliability, value, support for Android and iOS operating systems, and many others.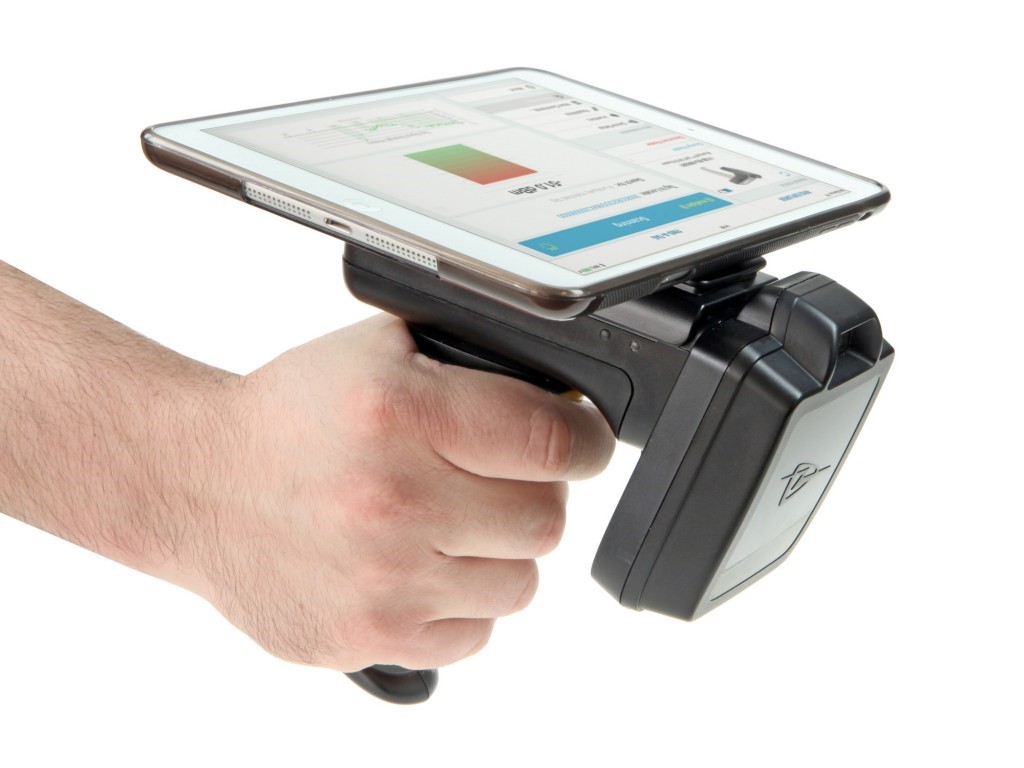 Example of TSL UHF RFID Reader paired with Bluetooth to a tablet
Does your project have special requirements for your handheld readers? TSL can provide a solution for those needs. They offer a wide variety of interrogator solutions and should be considered for any RFID project you may have in this area.
See the TSL website for the latest information on all of their readers and other related products: https://www.tsl.com/
For additional information on RFID components including a full array of RFID readers contact us at the Gateway RFID Store.