27 Aug, 2015
Post by Sean Harnedy
HID Global RFID Tags – A Technical Look
HID Global offers a vast array of RFID tags suitable for many applications and such different problem domains as industry and logistics, marketing and identity systems, and even animal identification. HID Global has been developing and selling their diverse and flexible line of tags and transponders for over two decades. They have extensive RFID development and manufacturing expertise. Innovative engineering, patented processes and ISO 9001-2008 certified facilities ensure HID is a trusted resource for RFID tags and labels.
The HID Global company is headquartered in Austin, Texas, and has over 2,200 employees worldwide with international offices that support more than 100 countries. HID Global has production facilities in North America, South America, Asia and Europe, as well as research and development centers all over the world.
When a Process/Industrial Engineer seeks to find best tag for a given application there are several very important attributes that may be considered. The following list shows the various parameters and conditions that HID Global tags can operate within:
Frequency: Low (LF) – 125 / 134.2 KHz; High (HF) – 13.56 MHz; and, Ultra High (UHF – 860 – 960 MHz)
Surface tags can be applied to Metal and non-metal surfaces; Metal only; or, Non-metal only
Resistances: Chemical Exposure, Flame, Food compatible, High Temperature (>176°F or > 80°C), Low Temperature, Physical impact, and, Water & Humidity
Peak Temperature: Low ( < 212°F or < 100°C); Medium (212 – 302°F or 100-150°C); or, High (>302°F or >150°C)
Form Factor: Block, Capsule, Disc, Embeddable Coil, Special, Desktop Reader with Secure PIN Entry, Desktop Reader, Secure Memory, Mobile Reader, or Floppy Bay Reader
Fixation: Embed, Glue, Screw, Weld, or, Other / special
Standards: ATEX, DIN 30745, EN 14803, EPC C1G2 & ISO 18000-6C, ISO 11784 & ISO 11785, ISO 15693 & ISO 18000-3, ISO 14443A, NFC, Trusted Tag Services
User Memory: UID only; Small (< = 256 bit); Medium (257 bit – 1 kbit); Large (1 kbit to 16 kbit); or, Huge (> 16 kbit)
HID Global has a wide variety of tag types. Here are the current 23 tag categories to consider:
Bin Tag RFID Tags: RFID tags that withstand the harsh environments of waste management
Brick Tag RFID Tags: Miniature low and high frequency tags for inventory tracking and theft prevention applications
Embeddable RFID for Animals: Low frequency RFID transponders that embed effectively into custom enclosures
Embeddable RFID for Industry and Logistics: RFID transponders in LF, HF, UHF for enclosure into virtually any other items
Glass Tags for Animals: Safe, reliable, effective RFID tags for pets, livestock and lab animals
Glass Tags for Industry and Logistics: Versatile low and high frequency RFID tags with exceptional performance
High Temperature Label: Wafer-thin UHF RFID tags that can tolerate the harsh conditions of industrial processing.
IN Tag™ RFID Tags: Robust low, high and ultrahigh frequency RFID technology that perform in tough conditions
InLine Tag™ Plate: Thin, robust UHF tags that mount to any surface material and deliver long read ranges.
InLine Tag™ Ultra RFID Tags: Robust, all-purpose UHF RFID transponders mount to any surface, and supply long read ranges worldwide
IronTag® UHF Tags: Compact UHF RFID tags that enable tracking of metal assets in harsh environments
Keg Tag RFID Tags: LF and UHF RFID transponders for tagging metal returnable transport containers
Logi Tag® RFID Tags: Discreet LF/HF tags withstand the rigors of immersion, pressure and extreme temperatures of laundry, medical and other demanding application
LF Poly Tag® RFID Tags: LF & HF disc-shaped RFID tags with extreme impact resistance ready for outdoor use
LinTag™ Textile Tags: Linen and Garment tags that withstand up to 300 commercial laundry cycles
Nail Tag RFID Tags: Nail-shaped LF RFID tag easily hammers into trees and containers for tracking wooden assets
NFC Inlays & Labels: Tag physical media quickly and effectively to enable NFC-powered promotions.
Plug Tag RFID Tags: LF RFID technology enables improved tracking of plastic bins and containers
Seal Tag RFID Tags: Durable HF and UHF tags with integrated cable ties enhance tracking while protecting industrial container contents
SlimFlex™ RFID Tags: Pliable HF and UHF tags that withstand exposure to harsh elements, chemicals, pressure and torsion.
Trusted Tag® Services ISO Card: ISO cards, optimized for secure, non-replicable interactions with HID Trusted Tag Services.
Volcano Tag™ RFID Tags: Durable, LF RFID tags that perform in high temperature environments
World Tag™ RFID Tags: Cost-effective, LF disc-shaped RFID tags for indoor applications
Additionally, HID Global can customize a tag to fit unique requirements for chip type, dimensions, programming and materials you may have.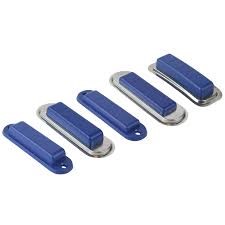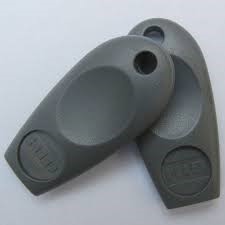 Examples of HID Global RFID Tags and Labels (RFID label/key ring and RFID UHF HID In-Line Ultra Tags)
Does your project requirements have special needs for your tags or labels that HID  Global can provide a solution for? They offer a wide variety of tag and label solutions and should be considered for almost any RFID project requirement you may have.
See the HID Global web site for the latest information on all of their tags and labels: http://www.hidglobal.com/products/rfid-tags
For additional information on RFID components including readers, printers, and accessories contact us at the Gateway RFID Store.