10 Sep, 2015
Post by Sean Harnedy
RFID Technology – RAIN RFID
The RAIN Alliance has been organized to allow members to collaborate to develop RAIN RFID solutions for a variety of applications across many different vertical markets in the RFID arena.
RFID is the well-established wireless technology that is being used to connect the vast array of entities in the Internet of Things (IoT). Businesses and consumers will be able to identify, locate, authenticate, and engage all of these items among the many other benefits the IoT provides.
RAIN technology is based on a UHF RFID protocol standard developed by GS1 and ISO. Hundreds of companies have delivered products using these standards worldwide since the 1990's, starting with the initial creation of the IoT.
RAIN works with universities to educate students on the design and use of RAIN RFID. They assist in the development of startup companies that can fill a void that is not met by current technologies and suppliers.
The word RAIN, like RFID, is an acronym derived from RAdio frequency IdentificatioN. RAIN is intended to link UHF RFID technology and the cloud. In the cloud, RFID-based data can be stored, managed, and shared via servers and databases resident in the Internet. A RAIN RFID solution uses a reader to read and write a tagged item, manage the data, store the data, and take a specific action.
The IT Manager needs to be aware of new directions in RFID and IoT. Knowing what the RAIN alliance is and what it provides may offer a solid direction in ensuring the enterprise IT infrastructure is relevant and can evolve with the latest trends in RFID technology.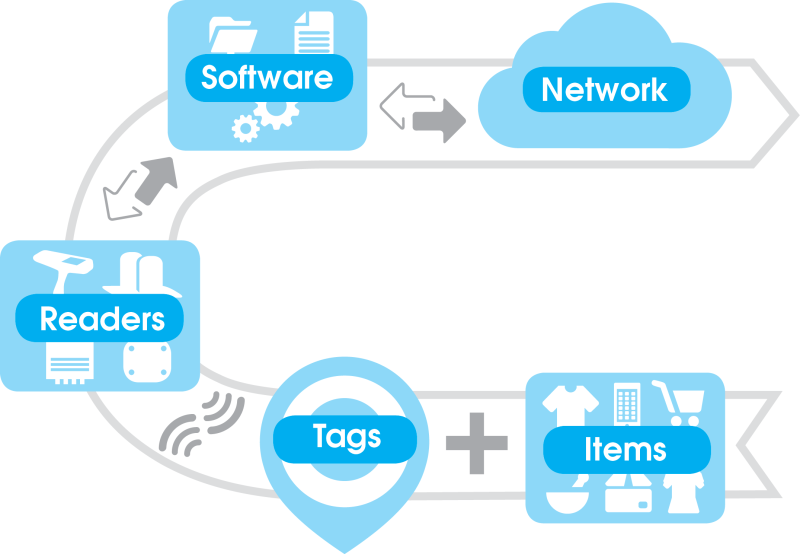 The RAIN Framework
RAIN promotes the universal adoption of UHF RFID technology in a way similar to other wireless technology organizations including NFC Forum, WiFi Alliance and Bluetooth SIG. RAIN uses the GS1 UHF Gen2 protocol which ISO/IEC has standardized as 18000-63.
See the RAIN web site for all the information about the alliance: http://rainrfid.org/
For additional information on RFID components including a full array of RFID tags, readers, and antennas contact us at the Gateway RFID Store.