RFID readers are an important part of any RFID system—but how do you choose the right reader for you? Between fixed readers, handheld readers, integrated readers, image scanners, and more, there are a myriad of options. Maybe you've determined that a handheld reader is the best for your needs—they're great for ticketing, for example—but you want to explore the different types of handheld RFID readers. We've broken the category of handheld readers into four subcategories, to help you choose the right one for your unique needs.
Standard Handheld RFID Readers
We say standard, but that's only to set them apart from the following categories. With manufacturers like Alien and Zebra producing these readers, there's nothing standard or basic about them. Durable and efficient, these readers are great in both industrial and non-industrial environments.
Rugged Handheld RFID Readers
When you know you're going to have to subject your gear to rugged environments, you can count on the Trimble Juno T41 CR, T41 XGR, and T41 XR handhelds. What's the difference between them? The T41 CR can handle being immersed in liquids as well as corrosive materials. It can handle shocks and drops, and has a 90-degree range of operation in Celsius (-30 to +60).
The T41 XGR is perfect for use on farms; this light, ergonomic, smartphone handheld RFID reader is durable and comfortable to use—on and off the field. The Trimble Juno T41 XR features a Gorilla Glass screen measuring 4.3" for easy visibility. Great for inventory and inspection, the T41 XR weighs only .875 pounds.
Ultra-Rugged Handheld RFID Readers
"Neither snow, nor rain, nor heat, nor gloom of night stays these couriers from the swift completion of their appointed rounds." – Inscription on the NYC Post Office
When rugged just isn't enough, when you need to track shipments and deliveries in the harshest environs, ultra-rugged handheld RFID readers like those manufactured by Intermec, can provide the accuracy and reliability you require.
Bluetooth Handheld RFID Readers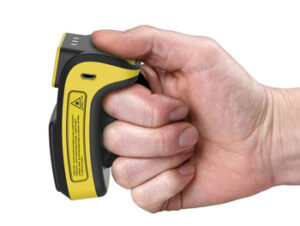 If you're operating in an environment where Bluetooth would be an asset, then Bluetooth handheld RFID readers by Technology Solutions Limited (TSL) might be just what you need. You can even find 2D imagers and wearable handheld RFID readers to suit an array of different situations.
No matter the environment or RFID needs, Gateway RFID Store is ready to help you find the right handheld reader for your operations.