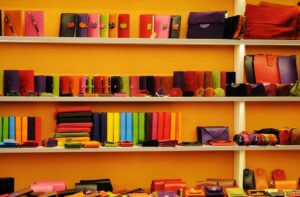 New and improved RFID tags are being developed each and every day. From tags that can connect with a smartphone to tags that can withstand harsh elements, RFID technology is improving and being used in more applications. Now, we're taking a closer look at the smallest RFID tag to date: a "mini" garment RFID tag that's made from transparent materials.
Mini RFID Tag for Clothes
The tag itself is largely meant for sewing into clothing to help prevent against fraud. The tiny tag is known as the WT-A433L UHF (ultra-high frequency) RFID tag, and is the smallest tag yet developed by the company Fujitsu Frontech North America. The tag itself has increased washing durability, which comes in handy when being used within fashion clothes.
The tag itself is almost undetectable when placed within clothing. In fact, it can even be used for clothing that's sheer, or within fine lace. Even if the sales tags have been removed, it's still possible to identify clothing with this particular tag as coming from a particular fashion brand.
Rise of Fraud in Fashion
Fashion fraud is on the rise. As more and more people demand items from specific brands, there are those who create "fake" luxury items and then attempt to pass them off as the originals. Often, it's difficult to determine whether a luxury item is real or not. This makes RFID tags a specific, new tool that could help with the fashion industry.
RFID tags can be set to specific items and let individuals know whether or not they have an original brand. This can be especially useful when it comes to determining which merchandise is fake and which is real. In addition, the fact that these new tags are particularly small means that they can be added to most items without being obvious.
Buy RFID Tags
If you're looking for RFID tags for your own applications, whether it's fashion or something else entirely, then consider Gateway RFID. You'll be able to choose from a range of RFID tags and readers to suit your needs. If you're not sure which tags will best suit you, then contact us to find out more.