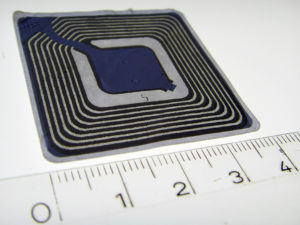 RFID tags have been used to track clothing and accessories in stores for years. They can help organize inventory, and also show how much stock is left. Now, though, there's one designer that's integrating RFID tags as visible parts of jewelry and accessories, and the results are truly astounding.
RFID Tags as Custom Jewelry
In this latest venture, London-based Sarah Angold collaborated with Avery Dennison to create jewelry with RFID technology. In this case, the two worked to create four RFID pieces, which included a handbag, two necklaces, and a crown. They're not just accessories, either. All of them have the ability to interact with their wearer to provide more information.
"The physical and digital worlds are converging, and consumers expect to be connected seamlessly across all aspects of their lives," said Francisco Melo, Avery Dennison's vice president and general manager, global RFID, in a recent article by Apparel News.
How RFID Tags Work
In this case, the RFID tags worked differently, depending on the product. For example, the handbag actually interacts with the wearer through conductivity via body heat. In contrast, the necklaces and crown work with interactive mirrors. When linked, the mirrors provide item-level product information. This includes information such as the design and product information. It also gives the wearer recommendations for styling.
RFID tags, at their root, provide information. This means that having jewelry, clothing, or other accessories with integrated RFID technology can give the wearer the information they need or want on the go.
Other RFID Accessories
It's not just accessories that have RFID tag integration, though. There's also an interactive jacket, called the "BRIGHT BMBR." It's a "smart jacket" that actually connects to a cloud-based IoT software. The jacket also features a limited-addition label containing NFC technology and a unique QR code that allows the wearer to use a smartphone to access exclusive content.
If you're interested in getting your own RFID tags for your own project, consider contacting Gateway RFID. With tags of all kinds that are created for all types of conditions, Gateway RFID can get you started and help you with your RFID tag needs.