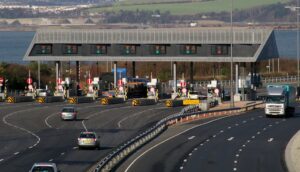 Most people know that EZ Pass possess RFID technology to make it easier to pay tolls and also to speed up traffic on roadways. Now, the same technology is being implemented in India. It turns out that new vehicles may be equipped with embedded RFID tags that could help prevent traffic jams, and also give people an easy way to pay tolls.
RFID Tags Embedded in Vehicles
India suffers from major traffic jams. This means that instituting a way to quickly and efficiently process toll payments could make huge strides toward more-efficient uses of roads. Currently, the Indian government has asked vehicle manufacturers to provide a digital identity tag in all new vehicles. These RFID tags could be used to help with electronic payments at all tolls.
"So, as far as toll plazas are concerned, the ministry of road, transport and highways is advising vehicle manufacturers that in all new vehicles, the manufacturers must provide Radio-Frequency Identification (RFID) facility," said Shaktikanta Das, economic affairs secretary, in an interview with Livemint.
RFID Tags for Tolls
Putting RFID tags in vehicles is part of a larger scheme to go digital. In fact, all government offices have been recently asked to use only digital payment methods for making payments to stakeholders, contractors, and employees.
In this case, vehicles with these tags can pass through toll booths without pausing. When a car passes through a toll booth, the RFID tag is read. Then, the toll amount is automatically deducted from the RFID tag.
Not only would this cause a faster toll process, but the RFID tags could be "recharged" for future use. This would allow drivers to have a quick, easy method to deal with toll payments without stopping to pay case.
RFID Tag Use Today
If you're looking for a RFID tag for your own applications, then consider Gateway RFID. With a full range of tags that can suit multiple purposes, Gateway RFID is the one-stop place for anything to do with RFID technology. Give them a call to ask how they can help with your next RFID tag project.