Things to Consider when Selecting an RFID Printer
Many times a business application requires the need to print RFID labels. This requirement frequently includes adding bar codes and additional human readable labeling. What is required is an RFID printer. The RFID printer is the printing device used to write data to a RFID tag and also print any graphics, bar codes, and text onto the label as needed.
RFID printers come in a variety of models aimed at various price points from the low-end up to the enterprise and industrial level and even now printers for mobile RFID printing.
The Zebra ZT420 RFID printer is an example of a high end printer. It has a resolution of 203 DPI with a six inch print width and serial, parallel, and USB interfaces. The printer includes a menu for configuration and status monitoring. It contains a strong metal frame and is rugged and reliable.
Zebra ZT420 RFID printer
An example of a smaller form desktop RFID printer is the Zebra ZD500R UHF RFID Printer which has 203 DPI and serial, parallel and USB interfaces. This printer is designed to fit in a smaller space. It offers such advanced features as simple, one-touch printing and encoding, straightforward loading, and automatic RFID calibration. This printer supports both direct thermal and thermal transfer printing and is compatible with inlays from many suppliers.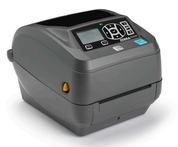 Zebra ZD500R UHF RFID Printer
These RFID smart label printer/encoders use media that has an RFID inlay that contains the RFID chip and antenna that makes up the tag embedded within the label material. An RFID encoder inside the printer writes data to the tag by using the radio frequency transmission.
The printers also come with varying resolution of DPI (DPI stands for "Dots per inch") for the human readable portion of the label or tag. Most RFID printers can be used just to print various types of bar codes also. The RFID printer software makes encoding tags easy. Bar codes are used along with RFID so that the printed information can be additional information not available in the RFID part of the tag but also provide a redundant failsafe in case the RFID tag gets damaged and cannot be read. Using barcodes and RFID together ensure that no matter where the tag is being used, the data is always accessible to identify the asset.
Important considerations for choosing an RFID printer are:
Types of labels you want to use
Specific print requirements
Functionality of accompanying reader software
Printer interfaces and network abilities
Requirements for bar code and human readable labeling
Volume of tags that need to be created and general frequency of use
Price range you are looking in
Space printer will be placed in
Top RFID companies to investigate include:
Zebra Technologies
Honeywell Intermec
SATO
Printronix
Datamax-O'Neill
What are you looking for in an RFID printer for your RFID application needs?
For additional information on RFID printers and RFID including readers, labels & tags, and accessories contact us at the Gateway RFID store