Laird RFID Antennas
Laird Technologies is the leading global provider of RFID antennas for high-performance reader applications, with a comprehensive understanding of the RFID environment and the inherent challenges customers face every day. Offering robust and advanced RFID antenna designs, Laird antennas can be used for a variety of applications ranging from use in counter tops and shelving, to dock doors and other asset tracking needs. Laird's antennas are able to function indoors and outdoors across all popular, domestic and international, UHF RFID frequencies. Antennas by Laird provide superior quality even in the busiest logistics environments.
Laird Technologies is an English electrical and electronic manufacturing company that was founded in 1824. It currently has over 9000 employees. Its global headquarters is in London, England, and its American operations are in Earth City, Missouri.
Laird utilizes proprietary testing systems for high standards of quality and services, including Artificial Intelligence Optimization (AIO) bringing novel designs to market with unmatched performance. Laird antennas are compatible with virtually any RFID reader available.
Laird RFID antenna technology is ideal for a variety of applications that a process engineer may be considering for an RFID deployment. RFID works effectively and efficiently in industries with large amounts of inventory. Today, RFID technology is frequently used in businesses from warehouses and distribution centers, to airports and hospitals in order to keep track of inventory and assets. Laird's broad offering of RFID products are designed to allow businesses to run efficiently and accurately. Applications of this technology are limitless and our product solutions have been used in a variety of markets. These include:
Medical: Tracking medical equipment, supplies, documents and even patients can be a difficult task in the healthcare industry. Utilizing RFID technology can help streamline this process and assist hospitals in reducing stolen equipment and increasing patient safety while keeping costs down without additional staff.
Retail: The use of RFID technology in retail environments helps ensure the shelves are always stocked. RFID inventory checks are automatic, so they are real-time and more efficient than manual inventory checks. Managers can always know what they have in stock and when they need to make additional orders.
Manufacturing: RFID technology can be used in manufacturing to track goods from the moment they enter the operation through, assembly and shipment. This assists managers in monitoring the speed and accuracy of the production line, inventory levels and quality assurance.
Distribution Centers and Warehouses: It is important for distribution centers and warehouses to be fast and accurate when shipping and receiving products. Using RFID technology helps to cut time and errors. It also provides up-to-date information on what products are where, without actually having to open every box, so workers can focus on processing additional orders.
Transportation: Baggage handling is a perfect opportunity for the transportation industry to utilize RFID technology to help reduce labor costs while also increasing efficiency of baggage sorting. Using RFID to help track luggage ensures bags are in the right place at the right time ultimately resulting in cost savings and happy customers.
Laird offers a family of RFID Product Solutions:
General Purpose Antennas: Laird's robust general purpose RFID antennas provide high performance functions across all popular domestic and international UHF RFID frequencies for indoor and outdoor use. Industry-renowned design methodology achieves maximum efficiency and performance across the entire frequency band. General purpose antennas are ideal for warehouses, distribution centers, transit terminals, airports and hospitals.
Near Field Antennas: Laird's RF system engineering and antenna design technologies improve RFID read rates by optimizing the reader-tag communication link in this unique application environment. There are no hot-spots or dead spots, ensuring reliable tag reading no matter where the tag is placed on the antenna surface. These antennas are best suited for retail POS, kiosk, pharmacy, hospital and tag writing markets.
Special Application Antennas: Laird's offers innovative antenna systems that give the operator ultimate system flexibility. Available in a wide range of frequencies and mounting styles, our special application antennas provide multiple options to fit virtually any need. These antennas are robust, resistant to damage and weatherproof, making them ideal for industrial uses including in warehouses and on forklifts.
Internal Antennas:  Laird provides advanced internal high-performance RFID antenna design that functions across all popular domestic and international UHF RFID frequencies for indoor and outdoor use. Our embedded antenna comes with a wide range of connector and cable options and has been put to use in markets that include warehouses, distribution centers, transit terminals, airports and hospitals.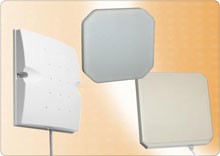 Examples of Laird Technologies RFID Antennas
Does your project requirements have special needs for RFID Antennas and Accessories that Laird Technologies can provide a solution for? They offer a wide variety of RFID Antennas and should be considered for almost any RFID project requirement you may have.
See the Laird Technologies web site for the latest information on all of their RFID antennas and accessories: http://www.lairdtech.com/product-categories/antennas
For additional information on RFID components such as Laird antennas as well as RFID readers, printers, and accessories contact us at the Gateway RFID Store.