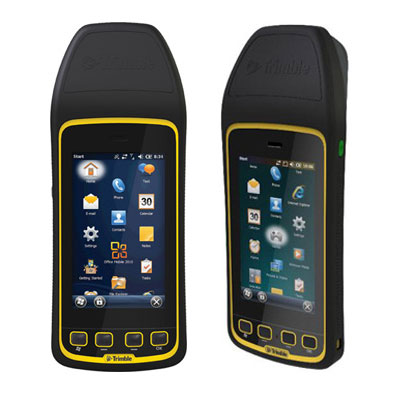 The Trimble Juno T41 CR is rugged. Extreme altitudes? No problem. What about temperatures? No sweat (or chill, as applicable). It's built to withstand being dropped, shocked, and immersed in liquid. Dust and vibration are no bother; nor is driving rain. Not even corrosive environments or prolonged UV exposure will stop this handheld. It will go where you go—even if you don't want to go there—and help you get the job done.
It meets MIL-STD-810G standards—which basically means it's tough enough to be used in commercial and military environments. The Trimble Juno T41 CR is available to meet IP65 or IP68 ratings, which in both cases means it is dust tight. IP65 means that it can withstand "water projected by a nozzle (6.3mm) against enclosure from any direction," and IP68 indicates that it can survive liquid immersion beyond one meter (DSM&T).
What about the user experience? The Trimble Juno T41 CR doesn't disappoint there either.
The Coming® Gorilla® Glass panel makes the screen easy to read, even in the sunlight.
The high resolution screen is over 4".
The screen is responsive to touch and zoom, but there is an optional stylus available for those who prefer to use one.
The Trimble Juno T41 CR comes with either Windows Embedded 6.5 or Android 4.1 Jelly Bean for ease of use.
ThingMagic® is part of what makes the Trimble Juno T41 CR tick, allowing it to either work solo as an RFID reader or pair with a fixed reader. Either way, it's powered by Gen2 Protocol. What does that mean, exactly? It means it can read multiple RFID tags, at varied frequencies, virtually simultaneously, which makes it a perfect choice for everything from inspection and maintenance jobs to managing and tracking asset inventories. Because of the T41 CR's circularly polarized antenna, it's able to read RFID tags quickly and accurately.
Not only can the Trimble Juno T41 CR go where you go—into just about any harsh environment—but it's ready for use in the United States, Canada, Australia, New Zealand, and Europe. This rugged handheld computer combines smartphone technology with RFID reading capabilities, allowing you to work efficiently, accurately, and with the assurance that your equipment can handle the demands of your job.